Browse Our Site
We make it easy to find the services and information you're searching for.
Get Started:
Welcome to the Dental Office of
Andrew K. Thompson DDS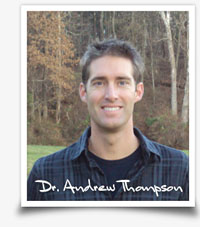 A personal note from Dr. Thompson:
What most people do not realize is that I do not simply provide high quality dental treatment, I build trust with my patients! Until we establish a relationship based on trust, I will not be able to provide you with the high quality dental care that you deserve. Part of earning your trust is to do what is in your best interest, and my goal is to treat you like family.
My core values are reflected in my logo: Quality, Integrity and Compassion.
Quality
I will always strive to deliver the highest quality dental care. This includes esthetics, pain and emergency management, and preventive services to keep you and your family smiling and pain free!
Integrity
I will recommend the best treatment in terms of your needs and desires while taking cost into consideration. You will not be sold something for my benefit - I will let you know the services I provide, and together we will make the best choice for you!
Compassion
I recognize that the majority of people have some level of fear and/or anxiety when they come to the dentist, and I want to ensure your comfort during your visit. If you are in pain, I will work to see you as soon as possible and I promise to treat you gently and with respect.
Convenient Dental Care
Andrew K. Thompson DDS makes going to the dentist convenient for you. For your busy lifestyle, we offer same-day, early morning, and early evening appointments. We file insurance on your behalf and major credit cards are welcome. Financing options are also available. For over 13 years, Dr. Thompson has proudly served residents of Sykesville and the surrounding areas of Carroll County, and we look forward to welcoming you to our family of satisfied patients.
Our office is conveniently located in Eldersburg near Century High School and is just a short drive from downtown Sykesville.

We believe that as a small business it is important to give back. Learn how we do that through medical missions.

If you've been struggling with a tooth or mouth ailment then you're not alone. See our successful cases in our gallery.